HISTORY OF JUNIOR FORUM, INC.
Junior Forum originated in Houston and has been in existence since 1946.  It began through a common bond of interest in community service, when five young women met to form the Junior Department of Women's Forum.  Twenty-two young women gathered for the first meeting where Western Union blanks were used to record their first minutes.
In January, 1947, the new group became an independent organization known as the Houston Junior Forum.  From that small beginning, the Forum has now grown significantly.  Chapters now exist in Austin, Baytown, Cypress-Woodlands, Dallas, Georgetown, Houston, Nacogdoches, Pasadena, and San Antonio.  Each group is a private, non-profit service and welfare organization composed of women dedicated to serving the community.  These women have not only given thousands of hours to service, but have also provided much needed funds for special causes.  The history of this organization has a bright record of achievement, accomplished by the talented, energetic women whose goals are to alleviate some of their community's problems and thus help better our world.
Please visit our sister chapters to see the wonderful things they are doing in their communities:
AUSTIN
GEORGETOWN
HOUSTON
NACOGDOCHES
PASADENA BAY AREA
SAN ANTONIO 
HISTORY OF CYPRESS-WOODLANDS JUNIOR FORUM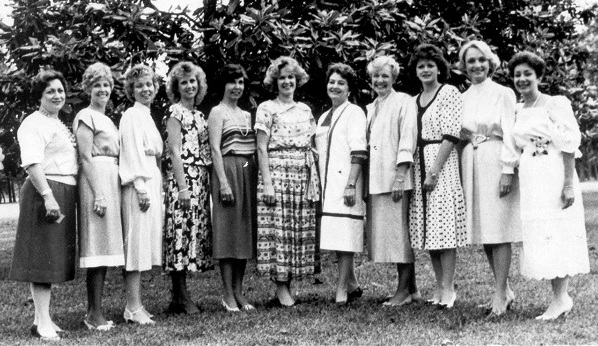 Recognizing the need for a service-oriented women's organization in the Cypress and The Woodlands community, founder Peggy Jo Coker, decided to form a chapter of Junior Forums, Inc. With help and encouragement from Marilyn Lynch, JFI Expansion Chairman, a group of 11 dedicated members began meeting regularly in January 1982. Members of the original steering committee included Nancy Brandimarte, Kathy Chaffin, Gerry Christensen, Florra Clarke, Peggy Jo Coker, Loni Dennis, Maria Pyle, Georgan Reitmeier, Daisy White, Barbara Young and Kim Young. During their meetings, The committee chose Cypress-Woodlands Junior Forum as the official title for the group.
In September 1982, 84 women joined President Daisy White at the first meeting of the provisional forum. The women continued toward the goal of becoming a chapter of JFI. In March 1983, Junior Forums, Inc. officially chartered the Cypress-Woodlands Junior Forum.
With service to the community as the primary goal of CWJF, the chapter adopted the motto of Growth Through Service. Members began selecting programs to fulfill that ideal. Over time, they adapted the programs to satisfy developing community needs.
Today, more than 35 years after the first meeting, over 350 active and sustaining members continue the mission of Making a difference in the lives of children, families and the elderly.